Objectives, Approach and Impact
Using a participatory-design process involving relevant stakeholders (human factors experts, technology developers, hearing communities, end-users) the 3D Tune-In project will create a Toolkit and a series of Applications to:
Enable end users to explore, review and customize hearing aid devices for different usage scenarios

Enable individuals with no hearing impairment to understand how hearing loss can compromise everyday activities, and how a hearing aid can improve this situation

Enable gaming SMEs to explore new non-leisure applications in the area of hearing loss and hearing aid technology with support from the scientific community

Enable hearing aid providers to evaluate and demonstrate the various functionalities of their products to improve their services and increase sales
It will do so by:
Stimulating and fostering knowledge and technology exchange between SMEs working in digital gaming, the research community, hearing-aid manufacturers and hearing impaired communities

Creating a toolkit to support the visual, audio, haptic design and development of game applications using gamification techniques

Test the 3D Tune-In application suite and provide scientific evidence on their benefits

Disseminating the results of the project to key and leading groups to stimulate widespread innovation

Exploiting 3D Tune-In products and services within and beyond the project to relevant markets
The structure of the project is given below: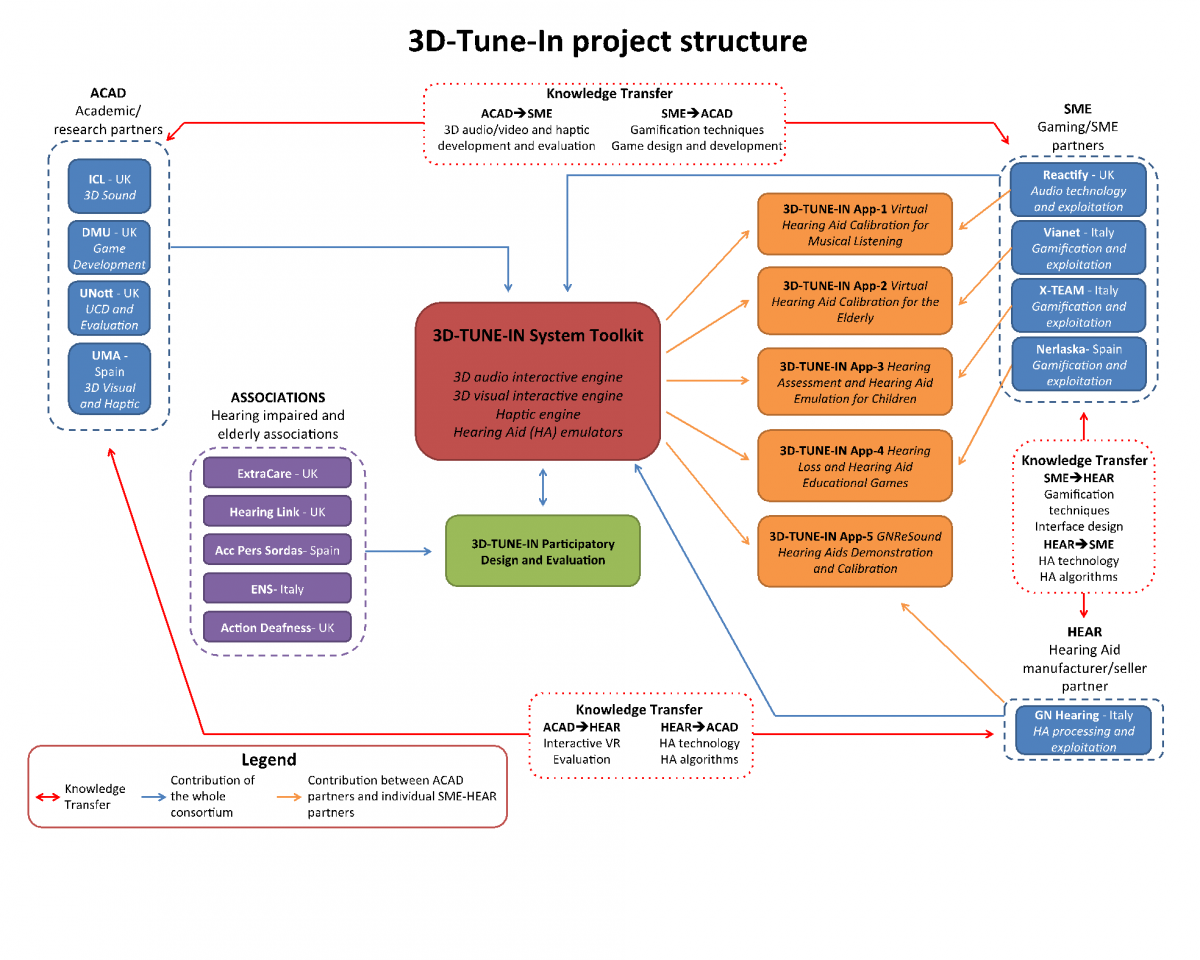 It is expected that 3D Tune-In will generate a wide range of economic, societal and environmental impacts:
By allowing hearing impaired individuals from all age groups to learn about the functionalities of their hearing aids and to calibrate them for specific usages and scenario, it will foster their

integration

into society,

countering isolation and exclusion.

3D Tune-In gives individuals without hearing impairment a

better understanding

of what a hearing loss is, thus

reducing stigmas

and fostering

understanding;

By venturing into a

new, rapidly developing market

(e.g. non-leisure gamification), 3D Tune-In will support a

wide range of industries

(ranging from games and app developers to hearing devices manufactures and retails and medical professionals), thus contributing to the

generation of jobs

and

strengthening of European industry;

By enabling better calibration of hearing devices, more

energy-efficient

is brought about by

reducing battery-use.